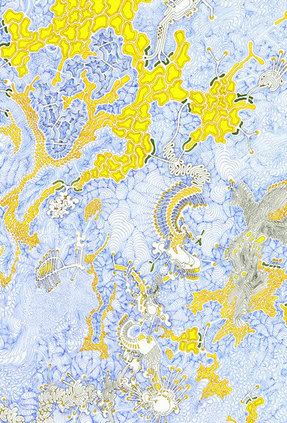 Daniel was born in California in 1965. He then moved to the East cost to study at UMass Amherst and then
He Now exhibits all over the country, though the majority of his exhibitions are in NY.
Daniel Zeller creates incredibly intricate works of art on paper, that have often been said to look like something from a topographical map. He works in a very organic way, and never plans out his drawings. He starts with a general idea and then just goes to work and sees what he comes up with. Zeller always works in multiple drawings at a time, he keeps them all in a draw and works on whatever piece inspires him that day.
This is an awesome video of Zeller sitting in his studio drawing and talking about his process/medium/ EVERYTHING. It's pretty awesome and says way more about him that I ever could, so check it out!